100% brand new sealed THE LION KING TRILOGY: 3DVD -MOVIE COLLECTION Animated Disney Movie Collection
Embark on an extraordinary coming-of-age adventure as Simba, a lion cub who cannot wait to be king, searches for his destiny in the great "Circle of Life." From the stunningly beautiful opening sequence over African vistas, to the hilarious escapades of "Hakuna Matata" with Timon and Pumbaa, to the awe-inspiring moment when Simba takes his rightful place atop Pride Rock, you will be thrilled by the breathtaking animation, unforgettable Academy Awardwinning music (1994: Best Original Score; Best Original Song, "Can You Feel The Love Tonight") and timeless story.
3-MOVIE COLLECTION (THE LION KING / THE LION [NEW DVD]

We prefer payments made through PayPal. Paying using PayPal will mean you get your item faster as this is one of the most efficient and safest methods of sending payment. PayPal also has the functionality to process your payment using Mastercard or Visa. The quicker your payment clears, the faster you get your item!
We believe PayPal is the fastest and safest way of making payments on the internet. Not only is your payment instant (when you use PayPal funds or your credit card), but your personal financial details (credit card details) stay confidential & are never seen by the seller.
Quantity:
From $
9.99
&nbsp/&nbspPiece

If you have your own design, please contact us, there will have a professional customer service to communicate with you.
Don't have your files right now?No worries, Check out our art tips for more information.
If over 500pcs, mass production will start until pre-production sample has been approved.
Est. 7 days production
Packaging & Delivery
Selling Units:

Single item
THE LION KING TRILOGY: 3-MOVIE COLLECTION (THE LION KING / THE LION [NEW BLURAY]
The Lion King (1994): Disneys epic coming-of-age saga tells of the love between a proud lion ruler, Mufasa and his son Simba a naive and curious cub who just cant wait to be king. But Simbas envious Uncle Scar has other plans, and his scheming for the throne leads to Simbas exile from the kingdom he should rightfully rule. Befriended by the hilarious warthog, Pumbaa, and his manic meerkat companion, Timon, Simba forgets his regal responsibilities and adopts a carefree lifestyle of Hakuna Matata.
The Lion King 2 - Simba's Pride (1998): Kiara, Simba's playful headstrong daughter and heir to the Pride Lands, is on the prowl for adventure. Escaping her bumbling baby-sitters Timon and Pumbaa, Kiara runs off to the Outlands, which are strictly off limits. There she meets the mischievous Kovu - a young cub chosen to walk in Scar's paw prints. The rift between the Outlanders and Simba's pride deepens as Kiara and Kovu's feelings for each other grow. But will love find a way to bring their very different worlds together as one?
The Lion King 3 - Hakuna Matata (2004): Hilarity reigns in this all-new motion picture starring Timon and his windy pal Pumbaa - the greatest unsung heroes of the savanna! Featuring the song That's All I Need by Elton John and Tim Rice, The Lion King 3: Takes you way back to the beginning before Simba's tale began... and beyond! In this all-new comedy adventure, Timon and Pumbaa reveal where they came from, when they met and how they helped Simba save the Serengeti. Their story includes glimpses into some big events from The Lion King that look a little different from Timon and Pumbaa's perspective - such as when King Mufasa introduced baby Simba to the animal kingdom. Let's just say there was something surprising about that dramatic moment when all the animals bowed to their new ruler!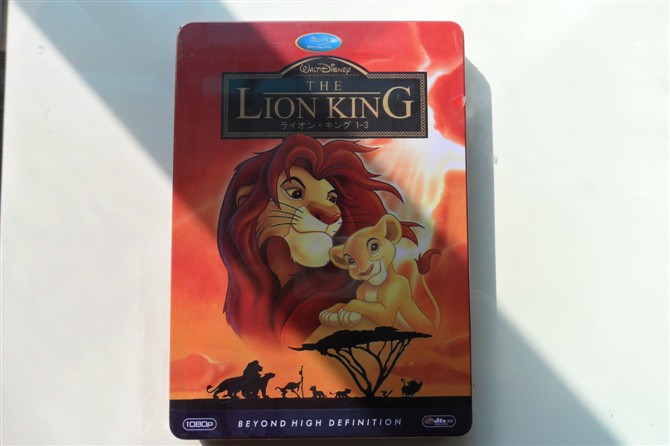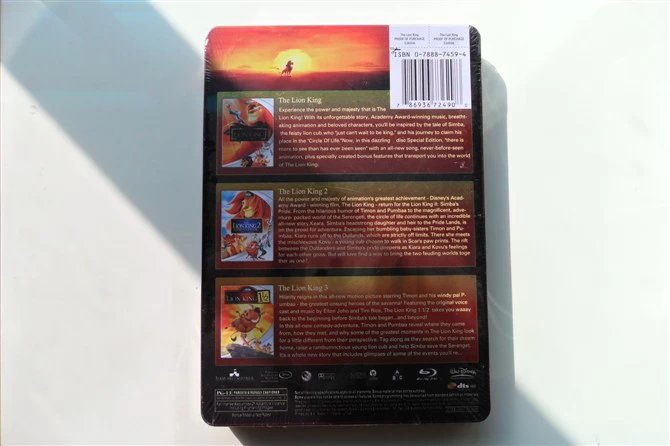 EVERY ITEM IS GENUINE(GUARANTEE 100% ORIGINAL), BRAND NEW
No need register, just fill in contact info below, we will reply you within 24 hours!
Enter the code in the box below: